Welcome to Crews Happy Acres
Carol with Snickers the brown standard Poodle and Timmie the apricot Toy Poodle
Crews Happy Acres is proud of our breeding program and all the puppies we have sold over the past 46 years of breeding. Bud and Carol were married in 1968 and have surrounded themselves with animals over these 46 years.

Carol became a Veterinary Technician back in 1965 and enjoyed working for several different veterinarians, thus gaining valuable experience and knowledge in the field. Though becoming a full time dog groomer in 1970 she found breeding litters of puppies to be her true love. She handles each puppy from day one every day and that "tender loving care" shows when the puppies enter their new homes well adjusted and eager to become that special family member.


All our breeding stock have been health tested and all puppies are sold with full guarantees against congenital diseases and come with first vaccinations, worming, and AKC papers.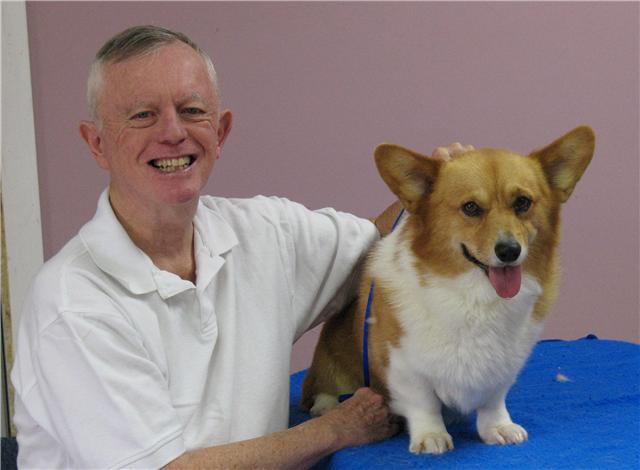 Bud with Billy the Corgi

Bud went to school to become a certified dog obedience trainer in 1978 in Murphysborough, Tennessee. He enjoyed training many different breeds and their owners to overcome various difficulties. Today he can assist new owners with any training challenge.

Bud and Carol owned a pet store in Grand Rapid, Michigan for over 5 years and learned the special needs of pets under stress conditions. The pet store environment is extremely stressful to all animals and we strongly urge people NOT to ever purchase a dog from a pet store. Most of them come from puppy mills and carry some severe health problems that will be with the pet for life.

Our goal as reputable dog breeders is to assist all families in their search for that "special fit" puppy and to continue to give support and help for the life of the dog. We have references to give you and we guarantee you will be satisfied with your new family member.
You can BUY WITH CONFIDENCE from Crews Happy Acres.
Bud and Carol Crews
1030 Goldenville Rd
Gettysburg, Pa 17325
717-677-9992
email:MCrewsjr@aol.com